SKAL INTERNATIONAL
FORT LAUDERDALE & THE PALM BEACHES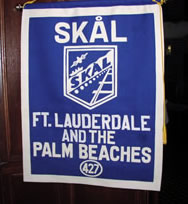 In 2017 We Are Celebrating Our 40th Anniversary
CLUB NEWS
Skål International Ft Lauderdale & the Palm Beaches
We held our 40th Anniversary Party at the Riverside Hotel in Ft Lauderdale where we enjoyed a wonderful reception on the outside deck overlooking the city followed by an excellent dinner. We were happy to welcome a large number of past members and guests who experienced a fun and memorable evening with us. It was our pleasure to have Skal USA President Holly Powers join us and participate in the ceremonies inducting 6 new members, presenting the 2016 Venue of the Year Award and celebrating two of our members for their long time - 15 & 35 - years in Skal.
The club was presented proclamations from both the Ft Lauderdale Convention & Visitors Bureau and Discover the Palm Beaches honoring our Skal Club's service and history in the community. The evening concluded with everyone watching the video recapping the club's past 40 years and celebrating all of the efforts of the Past Presidents and our members to support the Hospitality, Travel & Tourism Industry.
Have a great summer. See you in the Fall.
CLICK HERE
for the September Call to Meeting at Stache Restaurant in Fort Lauderdale.
CLICK HERE to read more club news in the June President's Letter.
Club Announces Future Meeting Venues!!
September 19, 2017 - Stache Restaurant - Fort Lauderdale
October 17 - Chesterfield Hotel - Palm Beach